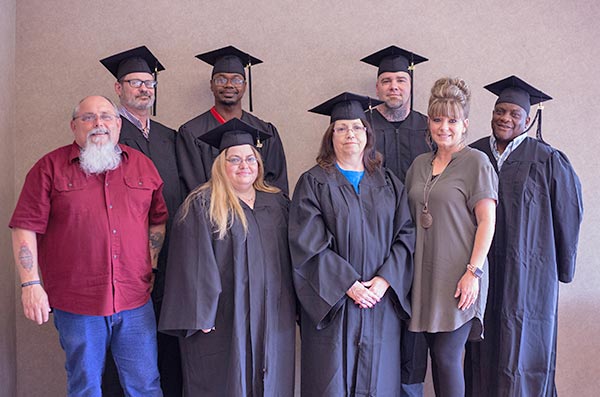 At the Shreveport-Bossier Rescue Mission, we are changing our cities one life at a time starting with the homeless men, women and children in our care. At the Mission, we are more than a shelter. The Mission provides a full-scale Life Recovery Program that not only meets a person's basic needs but also provides them with the tools needed for a complete life transformation. Our Life Recovery Program provides our guests with the ability to overcome the struggles and trauma that led to their homelessness and gives them the skills they need to permanently end the cycle of homelessness and poverty from their lives. The Life Recovery Program provides guests with small/large group classes, essential life-skills education, one-on-one weekly case management, life coaching, counseling, vocational training, on-site medical and dental care and more. 
The New Beginnings Program provides our guests with the opportunity to understand the cause of their homelessness and gives them to tools to overcome their past and prepares them for their future. This is a 12-month long term recovery program. Students reside on-site and receive one on one Life Coaching, Vocational Training, full coursework in Christian foundation and essential life skills, and attend large/small group classes.
Have a question about this program?
The Genesis Process is a recovery model and core curriculum used by the New Beginnings Program. It is a Bible based relapse prevention curriculum. Students identify faulty beliefs and replace them with the truth from the Word of God. Genesis counselors assist guests in creating individualized plans for relapse prevention.
The Genesis Process allows the student to turn mistakes into growth, reduce self-sabotaging behaviors and address the root cause of those behaviors.
Have a question about this program?
After guests have completed any of our program, we recommend they enroll in our Aftercare Program. Our Aftercare Program keeps our past guests connected and engaged with our staff and guests. The group meets twice a month for a night of fellowship, counseling, and ongoing support.
Have a question about this program?
6-month program for Discipleship Program graduates. Graduates receive assistance in finding jobs and permanent housing. Case managers work to ensure their transition back into the community goes smoothly and successfully.
Have a question about this program?
Men's Life Recovery Program
Contact the Men's Guest Services Desk at (318) 227-2868, ext. 125
Women's Life Recovery Program
Contact the Women and Children Guest Services Desk at (318) 227-2868, ext. 128